Celebrate the Holidays with the Friends!
Holiday Market
Thursday, December 15, 4pm-8pm, Birch Street
The Friends will be selling books at the first annual Holiday Market!  The market will offer Rozzidents & visitors alike the opportunity to celebrate and shop for the season in their neighborhood and will feature live music, local vendors, and delicious treats. Birch Street will be closed down, creating a European-style outdoor market, and there will be music and more inside the Emerald Society building.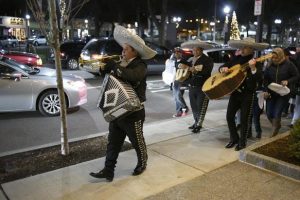 Annual Posada Navideña
Saturday, December 17, 10:30am – 11:30am
A true Mexican and now Roslindale tradition – the Nativity re-enactment of Joseph and Mary seeking lodging. Come dressed warm and ready to carol for "Posada" or "Shelter" around the Village accompanied by Mariachi Estrella de Boston and expect to be greeted with goodies for the children, warm tamales, champurrado (hot chocolate) and other Mexican treats.
We will depart from Adams Park at 10:30am sharp to the participating businesses and end our celebration at the Roslindale Library where the Friends will greet us with books, piñatas and goodie bags for the kids. Everyone will also be able to decorate holiday ornaments with Maria Conte from 11am to noon. Check out a short video about Las Posadas. Please join us!
Please note that in case of inclement weather the programming will be indoors and begin at the library at 10:30am!
Co-sponsored by the Friends of Roslindale Library
For more information, visit friendsofroslindalelibrary.org or call the library at (617) 323-2343.