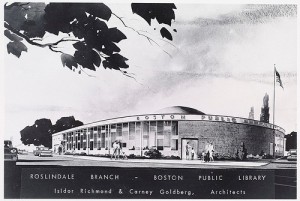 In 1851, the citizens of today's West Roxbury, Roslindale and Jamaica Plain voted to secede from Roxbury and incorporate as the Town of West Roxbury. That's because they thought of themselves as a district distinct from urban Roxbury. And, they did not support the proposed annexation of Roxbury into the city of Boston.
But Boston was growing and it began to absorb surrounding urban areas. In 1874 the citizens of the Town of West Roxbury voted to dissolve the town politically and become part of Boston. This about-face allowed them to take advantage of the benefits of a major urban center, including the groundbreaking and innovative Boston Public Library system.
In 1879, the population of West Roxbury continued to grow, so the US Post Office asked the residents of the village around South Street Crossing to come up with a name for their community as a postal district. This part of West Roxbury, with its hills and vales reminiscent of the village Roslin in Scotland, officially became "Roslindale."
Roslindale first enjoyed library service in 1896 from a book delivery station at a local drug store on the corner of Washington and Ashland Streets. Residents could put in requests for books to be supplied from the Central Library. Over the years the Roslindale branch library moved several times after outgrowing its quarters.
Then, in 1961, on the thick foundations of an old firehouse at the corner of Washington and Poplar Streets, a brand-new branch library emerged. Contained in a semi-circular building with a low blue dome, this new landmark surmounted the problems of a pentagonal-shaped lot and an underground brook. This is the very branch library you visit today at 4246 Washington Street.