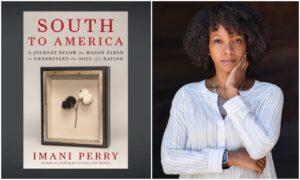 Race and Inclusion Discussion: South to America
Saturdays, November 4 & 18 and December 2, 9:15- 11 AM and Virtually 2-3:45 PM
This group is now meeting in person at the Roslindale Branch in the mornings, and the afternoon session will continue on Zoom.  They will be reading South to America by Imani Perry, and local educator Josh Frank will lead the discussion. Email [email protected] to join for the morning session, and email [email protected] for the afternoon session. Weaving together stories of immigrant communities, contemporary artists, exploitative opportunists, enslaved peoples, unsung heroes, her own ancestors, and her lived experiences, Imani Perry crafts a tapestry unlike any other. With uncommon insight and breathtaking clarity, South to America offers an assertion that if we want to build a more humane future for the United States, we must center our concern below the Mason-Dixon Line.