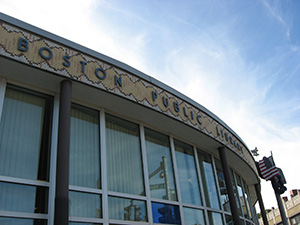 Renovation Background
Our library was built in 1961 and it's time for some major updating.
The Library renovation process involves three rounds of work.
The first step is a programming study to look at how the building is used and how the space might be reconfigured to best support those operations. The Friends held several public meetings around this study, which was completed in 2013, and can be accessed here.
The study led to three possible design options. With the help of our City Councillor, Tim McCarthy, we succeeded in getting funds allocated (for the most expensive option) in the City's most recent Five-Year Capital Budget.
The second round of work will be the design phase, during which actual architectural plans are drawn up. It takes about a year from bidding to completion. Again, due to Councilor McCarthy's work, the design phase for the Roslindale branch is scheduled to begin in spring 2017 (FY17) or summer/fall 2017 (FY18). We need to continue advocating to keep our place in the queue of Boston Public Library capital projects.
The final phase is construction (which should immediately follow the design phase). It will involve closing the library for some extended period of time, as is the case with the JP Sedgwick Street branch right now. Ideas for relocating children's programming and how to share books during this period are welcome.
The Friends are volunteers and welcome your help and input.
Please get involved in making our neighborhood library a great place for everyone.
Library Renovation Questionnaire
The Renovation Committee is pleased to announce that the architects for the design phase have been selected!  We are awaiting word that the contract has been signed.  Meanwhile, we are looking for people with the following expertise to join the committee to help support the design phase.  Please contact info@friendsofroslindalelibrary.org if you are able to help.
Lighting
Acoustics
Security
Early Childhood Education classroom design
Environmentally Sustainable building design
Technology for institutions
Fundraising
We are also seeking input from community members, especially those that represent constituencies in Roslindale.  To participate, please fill out this questionnaire:
Upcoming Events
Renovation Committee Study Visits
The Renovation Committee will also make study visits to other libraries in the Greater Boston area.  Please check back soon for upcoming site visits.
Get involved with the renovation project!
We are looking for community members interested in joining the Library Building Committee to identify short-term solutions, plan community education/outreach, and continue to advocate for longer term renovation.  People with architecture experience are especially encouraged to join! For more information, please contact Nicolene Hengen at nhengen@mit.edu.