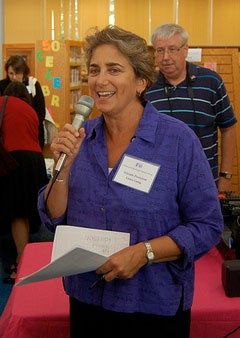 Farewell and Thank You to Laura Gang
It is with sadness that we say farewell and thank you to outgoing Friends' president Laura Gang. Under Laura's leadership, momentum for branch renovations bloomed, a community-wide reading program was launched, Rozzie Reads Poetry was born, and outreach and awareness for the library grew. So did Friends' membership, and our budget. We've added comfortable seating, decorated the shelves and added curtains. The Roslindale branch is better for having Laura as Friends' president. Thank you, Laura.
Sarah Singer, incoming President
Needle Craft Sale– Volunteers Needed!
Knitters, crocheters and embroiderers who support the library are needed to help plan and implement a spring needle craft fair. Solicit donations of yarn and other supplies, solicit craft-oriented raffle items, lead "how to" clinics during the sale. Commitment: Can work from home to solicit donations. Onsite three-hour shifts needed during the sale set for spring.
Chess Coach Needed
Chess coach needed for weekly after-school chess club.
Rozzie Reads Poetry: Featured Poets and Open Mic
Thursday, January 15, 7-9pm
Roslindale House Community Room, 120 Poplar St.,
Listen to Alexis Ivy and Emily Ferrara read their poems, then read one of your own.
New! Community Information Session on President Obama's Executive Action on Immigration
Wednesday, January 21, 10am-12:30pm; Thursday, January 22, 5:30–8pm
Speaker: Sarang Sekhavat, Federal Policy Director, Massachusetts Immigrant and Refugee Advocacy Coalition (MIRA)
Come learn more about President Obama's announcement on Administrative Relief, how it can benefit you, and what to do to get ready to apply at this program sponsored by the Roslindale Adult Literacy Planning Group.
New! Reverse Mortgage Workshop
Saturday, January 24, 10am-12pm