Yarn and Craft Book Sale
March 1-3, 2018
Hosted By
Friends of Roslindale Branch Library
4246 Washington Street
Roslindale, MA 02131
Thursday, March 1 Opening Night
5 pm Preview Sale
7 pm Keynote talk with Julia Farwell-Clay
8-9 pm Reception
Friday, March 2 - Sale Hours 10am - 4pm
Saturday, March 3 - Sale Hours 10am - 1pm
***Fill a bag for $5 all day Saturday***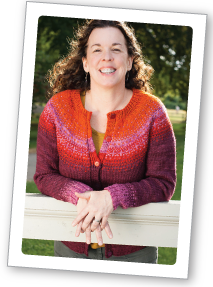 Keynote Speaker
Julia Farwell-Clay
Julia Farwell-Clay is a Boston-area knitwear designer, author, blogger, and teacher. Her fun-to-knit, fun-to-wear knitting designs have been published in Pom Pom Quarterly, Knitty and Knitscene, and she has designed for Berroco, Classic Elite, and Harrisville Designs. 
Parking:
Limited on-street parking is available in the vicinity of the Library at 2-hour intervals or at the Taft Hill Terrace City Parking Lot opposite Adams Park (Off South St) for free.  The Roslindale Village commuter rail station parking lot at One Belgrade Avenue charges an hourly fee.
MBTA Directions
Roslindale Library is located in the heart of Roslindale Square. Forest Hills station is about two miles away from the library and bus numbers 14, 30, 34, 34E, 35, 36, 37, 40, 50 and 51 drive by the library. The Roslindale Village commuter rail station is a five-minute walk from the library.
Support the Friends!
All sales will go towards programming, publicity and building improvements at the library. There are other ways to support the Friends, like making a donation, becoming a Friends member and even shopping on Amazon!